HDV300 video based measurement system from Starrett
Innovative new system combining the power of the Optical Comparator with digital video, hi-resolution cameras, telecentric optics and LED illumination.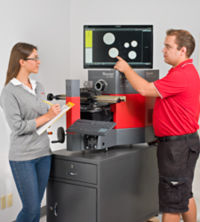 Utilizes digital overlay part design file (DXF) for comparing the inspected part to its design profile, similar to using a Mylar overlay chart on a comparator screen.
Intuitive M3 programming power and simple operator display interface make part measuring efficient and highly productive.
Features & Specifications:
Large measuring travel

Quick action interchangeable lens system

Rugged design suitable for many manufacturing environments

Bench top mounting

DXF CAD import and overlay measurement software

24" touch screen monitor

LED illumination
Please provide your information to the right to find out how the HDV300 from Starrett can improve the efficiency and accuracy of your inspection processes.
Starrett Metrology Systems Division
26052 Merit Circle, Suite 103
Laguna Hills, CA 92653
Tel: (949) 348-1213
FAX: (949) 582-8040